Using the compression method you can speed up your uploading time about 3 times faster! Let's see how
Currently, this compression method is for Windows computers only
1. Download necessary files
Please download these 2 files:
1. ImageMagick software:
https://download.imagemagick.org/ImageMagick/download/binaries/ImageMagick-7.0.11-12-Q16-HDRI-x64-dll.exe
2. "compressall.bat" file:
https://drive.google.com/file/d/1kwLSI-6IhuOx6jby37ojjGZuIZdL-D3Q/view?usp=sharing
2. Install ImageMagick Software
After you've downloaded both files to your computer, please run the ImageMagick installation file. (the first file).
During the installation process, when you get to the "Select Additional Tasks" stage, please make sure to check and uncheck the options as in the following image: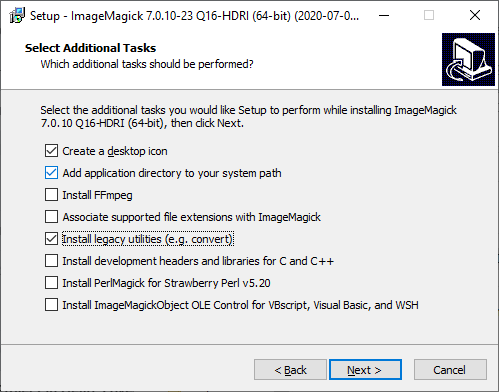 3. Copy the compression file
After the installation has been completed, go back to the folder where you saved the "compressall.bat" file at.
Right-click on that file and copy it.

4. Compress your images
Now, navigate to the folder that contains the jpg files you want to compress.
Paste a copy of the same "compressall.bat" file in that folder.

Running (double click) the "compressall.bat" file from the folder that contains the jpg images, will compress all the images in that folder.
Please note: This process will change and overwrite the original files so if you would like to save a copy of the original full-size images, you should make a separate copy of that folder before you start the compression process.
After running/opening the "compressall.bat" file, a black CMD window will appear. As long as this window is open, the compression is still in process. Please wait till the black window closes by itself - that means the compression process ended.
After that, you can remove or "cut and paste" the "compressall.bat" from that folder to a different one.
Now, the images should be about 3 times smaller in size. You can now upload the compressed images: Uploading images to the Web Platform