Agronomists now can generate auto-reports for their fields. See how in a few simple steps.
1. Log in to the web platform: https://app.agro-scout.com/
2. Press the "create report" button on the left sidebar:

Currently, only agronomists can create reports using this method.
If you don't have the "create report" button and would like to have this option, please contact us at support@agro-scout.com
3. In the pop-up window, select the relevant options for the report you would like to create: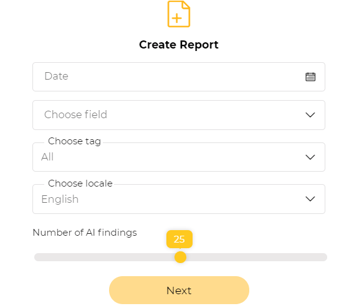 Date - Pick the date of the flight (Make sure to select the date of when the images were taken)
Choose field - Select the specific field. You can only create one report for a field at a time.
Choose tag - Choose the type of tags you would like to include in the report: All (AI tags + manual tags), AI tags only or Manual tags only.
Choose locale - Set the language of the report.
Number of AI findings - When selecting AI tags or All, you can set the maximum amount of tags to include in your report.
When done, click Next.
In the next step, you can upload a custom logo and add personal comments.
When done, click Create.


A PDF report will be generating and a download window will pop up as soon as the report is ready (Might take a few seconds).
You can save it to your computer and view it using any PDF viewer program.